Continent to gain from China's economic revival
Share - WeChat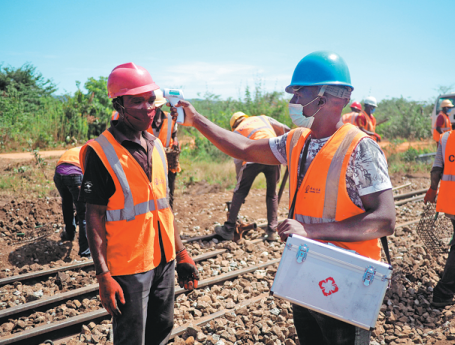 China is ahead in its recovery from the pandemic and that will help revitalize the economy amid the fight against COVID-19.
China's economic recovery from the pandemic has been accelerated and key growth figures have all improved.
The International Monetary Fund said in its latest World Economic Outlook that China's economy is projected to grow by 1.9 percent in 2020, 0.9 percentage point higher than in its June forecast. It also makes China the only major economy that would see positive growth in 2020.
Maria Gustava, Mozambique's ambassador to China, said that China has introduced effective measures and stimulus to boost and revitalize its economy.
"Obviously, China's economic performance will help to boost economic recovery not only in Africa but also in the entire world, from reviving the demand and supply of goods and services, and consequently, stimulate international trade and investments," she said.
Following pragmatic cooperation within the Forum on China-Africa Cooperation, the Belt and Road Initiative and bilaterally, China and Africa can formulate a framework to address the new reality and respond to urgent concerns by prioritizing specific, practical areas of cooperation such as public health, debt, trade, and investment for industrialization and climate change among others.
Gustava said China could take a lot of measures such as opening the market for African products, and both sides could assist African countries to explore the new opportunities given by e-commerce, and continue to support and encourage Chinese enterprises to invest in Africa.
He Yun, an assistant professor at the School of Public Administration at Hunan University in Changsha, said China's economic recovery is crucial for Africa because China is Africa's largest trading partner and second-largest export market.
"China's strong economic growth would drive Africa commodity prices higher and potentially spur more investment in the continent," she said.
In the future, the two should give priority to cooperation in digital infrastructure construction in Africa, as this serves as the foundation for growth in other areas such as digital services, cross-border e-commerce, internet finance, big data, and AI.
All will be key to drive Africa's development in the next 20 years, she said.
Clayton Hazvinei Vhumbunu, a technical officer with the Faculty of Humanities at Rhodes University in Eastern Cape Province, South Africa, said the COVID-19 lockdown in Africa, especially restrictions on travel, closure of factories, mines, borders, and ports, injured African industries, disrupted logistics and supply chains, and ultimately hit most African economies hard.
Four main gaps
Africa is confronted with four main gaps that continue to curtail the pursuit of sustainable development on the continent. These are the financing gap to fund national and regional development initiatives, infrastructure, energy, and industrialization gaps.
The United Nations said to achieve Sustainable Development Goals by 2030, Africa needs an estimated $1.3 trillion. The African Development Bank said Africa needs about $130 to $170 billion per year to address its infrastructure deficit. Africa also sits at the bottom of the global value chain with a share of global manufacturing at just 1.9 percent.
"Through the China-Africa partnership, there is an opportunity to address these gaps," Vhumbunu said.
He said COVID-19 should be Africa's "Damascus moment" to reflect and act on the need to economically transform in a way that readies the continent for unforeseen shocks in the future.
"In this regard, Africa may need to use its resource abundance to rebuild faster in the post-COVID era," he said. "However, this should not be in a business-as-usual approach."
Through the China-Africa partnership, African countries have to strategically prioritize production capacity cooperation, value addition, agro-processing, and manufacturing in addition to continuing to export commodities.
Infrastructure development in all forms, technology, and digitalization should also be prioritized as they bolster industrialization.
Africa and China may use their two complementary initiatives-the African Continental Free Trade Area which began on Jan 1 and the Belt and Road Initiative-to pursue development goals for regional integration and infrastructure development, he said. China and Africa need to continue negotiating for better management of African debt for sustainability purposes, he added.